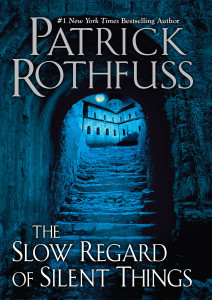 With fans baying for blood, err the third book in The Kingkiller Chronicle series - the working title of which is Doors of Stone - bestselling author Patrick Rothfuss has come out with an ingenious quickie in the form of The Slow Regard of Silent Things, to soothe and appease frayed tempers. While some are mistaken that this is the third book in the series, it is not. Unlike The
The Name of the Wind (Kingkiller Chronicle)
and
The Wise Man's Fear: The Kingkiller Chronicle: Day Two
which were both a mammoth tome, Pat's latest offering is far removed from them in comparison, just running a little over one-hundred and fifty pages.
The dissimilarities apart, The Slow Regard of Silent Things has a lot of similarities with the author's other works as the story, despite its limited length, is written on an epic scale. It is a fantasy science fiction full of adventures that will leave his fans clamoring for more. It is an astonishingly short but charming story of one of Patrick Rothfuss' favorite characters, Auri, of whom fans are well acquainted.
The Slow Regard of Silent Things is a supplementary story to The Kingkiller Chronicle series and throws much light on the Four Corners realm and the University as it follows the story of Auri, a former student, who is preparing for a visit from someone dear, perhaps Kvothe, though no name is mentioned. If readers leaf through the pages of this short story without expecting too much, many will find a story that grabs their attention, well-worth their time and helps to better understand the world of The Kingkiller Chronicle series.
AMAZON LINK