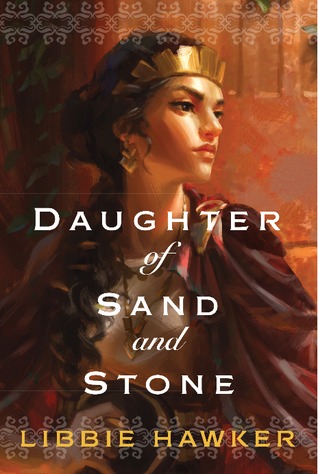 Daughter of Sand and Stone
by Libbie Hawker is a historical romance novel that follows the life of Zenobia, Queen of Palmyra and Empress of the East in the 3rd century AD, as she defies her family's expectations, fights to gain control of both her own life and the throne, and challenges the dominance of the Roman Empire. Strong-willed and courageous, Zenobia was considered a woman who doesn't know her place as she was determined to shape her destiny on her own terms, this novel is an epic story of a young woman who breaks free of the shackles and rose to become Empress of the East.
The youngest of the three daughters of the great chief, the Ras, Amr Ibn Zarib, affectionately called Zabbai by the citizens of Palmyra, and his wife Berenike, Zenobia's two siblings are Nafsha, the eldest, and Zabibah, second born. Her father is a powerful chief, second only to the Governor but for the Amlaqi tribe, Zabbai is the only authority. His words are as powerful as his actions. Zenobia's sisters are married but living with her parents as their husbands are waging war. At seventeen, Zenobia is considered too old to be unmarried though eight suitors have sought her hand in marriage during the past two years, and her father would have been proud to call any of them son-in-law. Zenobia has more important things in mind.
In
Daughter of Sand and Stone
, author Libbie Hawker painted a sweeping picture of the land, the people and the strength of character of its main protagonist Zenobia. The story is atmospheric. The book makes for a gripping read. Captivating yet tragic, it is the story of how a young woman driven by a strong desire established herself as the ruler of her people against all odds. A romantic at heart yet someone not easily swayed, her towering presence and Libbie Hawker's powerful narrative combined well to bring Zenobia's character to life.
AMAZON BUY LINK