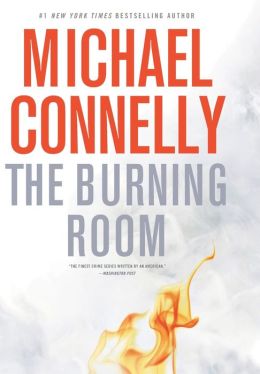 T
he maverick Los Angeles Police Department homicide Detective Harry Bosch has come a long way since he first made his appearance in the 1992 detective mystery thriller,
The Black Echo
. In that premier book of the series a man found in the drainpipe at Mulholland Dam was just another statistic for the police department. But when Harry Bosch stepped in it became personal because the murdered man was a fellow Vietnam "tunnel rat" who had fought side by side with him in a hellish underground war.
Twenty-two years later in his nineteenth avatar in Edgar-winner Michael Connelly's superbly crafted
The Burning Room
, Harry Bosch and his new partner, rookie Detective Lucia Soto, are tasked with an unenviable job of solving a very old case with a lot of twists and impediments. It concerns a case which begins almost ten years earlier with the drive-by shooting of Orlando Merced as he played with his band in Los Angeles's Mariachi Plaza. The bullet that struck him in the spine caused grievous damage leaving him paralyzed.
When Bosch and Lucy get to work they are confronted with lack of evidence which make the investigation all the more difficult. They got a vital lead when an anonymous tipster informed Detective Lucia Soto that the shooting of Orlando Merced is connected to the 1993 devastating fire which took place at the Bonnie Brae apartments that killed nine victims, mostly children. Incidentally, Soto could have been one of the children consumed by that raging fire twenty years ago but survived while some of his friends didn't. The mariachi musician was a victim of a conspiracy to bury the truth behind the arson as he was believed to have known the people involved. Bosch and Lucy also unearthed connections between the two incidents with the robbery of an EZ Bank.
With powerful people coming into the picture, master storyteller Michael Connelly skillfully maneuvered this compelling police procedural with a lot of unexpected twists and turns. Juggling between suspense, crime and mystery, there is no dull moment as Harry Bosch just simply refused to fade into oblivion and reinvented himself through the deft handling of his character by Connelly. Beautifully written and wonderfully paced,
The Burning Room
is not only for die-hard fans of the series but also for new readers who want to explore the world of Harry Bosch.