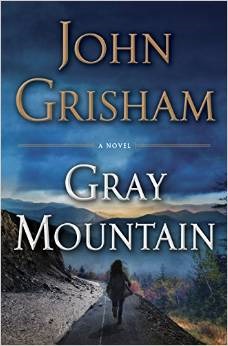 I
n nineteen ninety-three, John Grisham delivers a stunning and suspenseful novel,
The Pelican Brief: A Novel
, which revolves around the assassination of two Supreme Court justices, and the female protagonist Darby Shaw undeterred by the threats to her life uncovered a deep-rooted presidential conspiracy. Twenty-one years later, Grisham returns with a female protagonist for only the second time in his illustrious career as he crafted another stupefying legal thriller, this time not targeting the highest echelons of government but the deepest pits of the dark and perilous world of coal mining.
Set against the backdrop of the Great Recession of 2008,
Gray Mountain
by bestselling author John Grisham follows a 29-year-old female Manhattan associate attorney who gets downsized and is forced to leave her Wall Street law firm two weeks after the collapse of Lehman Brothers to work a year in the small-town of Brady, Virginia. Samantha Kofer's journey from New York's largest law firm to a small legal aid clinic in the heart of Appalachia with a population of 2200 as an unpaid intern borders on the ludicrous. Yet, that is the only possible route back to her job in the future.
When Samantha meets Mattie Wyatt, her new boss and the head of the Mountain Legal Aid Clinic, she realizes there's much to learn and that Mattie has a lot to teach her on how to assist people who face genuine problems. It enables her to work on things she had never done during her three-year stay at New York's Scully & Pershing. Apart from actually preparing a lawsuit, Samantha also gets to work her way around courtrooms, topping it with a tongue-lashing from a judge. Samantha's work forces her to get deeper into the problems of her clients Taking up cudgels on their behalf, she begins her own investigation to get to the bottom of their stories without ever realizing that in coal country searching for the truth and standing up for it means putting your life on the line. She also stumbles upon secrets that should have remained buried deep in the mountains forever, and the connection between small-town politics and Big Coal. But Samantha is not discouraged by the numerous threats that she received and is taking the fight into the enemy's camp.
Author John Grisham paints a dark picture of the coal mining industry, the danger it posed to environment and the lives of people. He is scathing in his portrayal of the people involved and how far they are willing to go to have their way, even to the extent of murdering and poisoning streams and wells. Though a dazzling legal thriller, full of suspense and action with its plot twists and surprises,
Gray Mountain
is primarily an issued-based novel that takes up the cause of defenseless people and the environmental hazard coal mining has brought about by ripping off the tops of hundreds of mountains in Appalachia. It has not only poisoned the ecosystem but is instrumental in the rapidly vanishing wildlife and threatens the very survival of human beings living around coal mining areas. Grisham is brilliant as ever but the central premise of the story may not appeal to some readers.